The Orchid Experience
The award-winning Black Orchid Resort in Belize has crafted a unique vacation package to allow visitors the chance to experience the best tours and adventures that the country has to offer.
Once the heartland of the Ancient Maya Empire, modern Belize is home to some of the best preserved Maya ruins, including the cities now known as Lamanai and Altun Ha. Built more than 3,000 years ago, the ruins of Lamanai include three enormous temples. The five square miles of the ruins of Altun Ha are home to the Temple of the Masonry Altars, the iconic structure that is featured on the logo of Belikin Beer, Belize's best-selling brand.
With the Orchid Experience Package, guests can enjoy a unique chance to snorkel at the Hol Chan Marine Reserve just a few miles offshore from the mainland. This ocean sanctuary is home to thousands of colorful species of fish, sharks, rays, turtles and plants. Back on land, enjoy a trip to the Howler Monkey Sanctuary, a park where the threatened Black Howler Monkeys are allowed to thrive in their natural habitat.
Belize Package Highlights
1 Half-day tour of your choice:
Cave Tubing
Howler Monkey Sanctuary
Altun Ha Maya Site
1 Full-day tour of your choice:

Lamanai Maya Site and River Tour
Snorkel Hol Chan reserve & Shark Ray Alley
Crystal Cave, Zip-Lining and Cave Tubing
3 nights in the Black Orchid Resort
Daily breakfast and dinner
Transfers to/from the International Airport
Free Welcome Cocktail upon arrival
Use of kayaks and paddle boats at resort, swimming pool, Wi-Fi
All Government Taxes and Service Charge
Day 1 - Arrival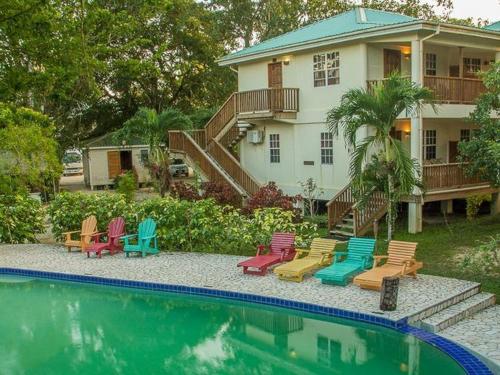 Air-Conditioned Van transport from Belize International Airport to Black Orchid Resort. Unlike many jungle resorts there is NO long bumpy ride to get here; the road is paved right up to the entrance. You can relax by our pool and enjoy your Free Welcome Cocktail to unwind from your travels.
Meal: Dinner
Day 2 - Half Day Tour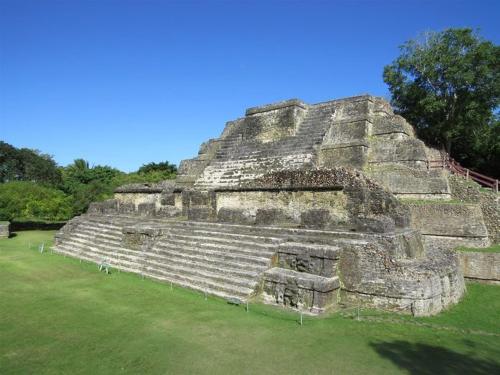 You can enjoy a half day excursion to one of Belize's caves, tour a Maya Site or take a leisurely nature hike, then relax in the afternoon at the resort. Or you can upgrade to a full day tour and pay the added fee.
Choose one of the half-day tours:
Howler Monkey Sanctuary: The Black Howler Monkey is found only in a small section of Central America. Its loud, rasping howl which can be heard roaring for well over a mile. You will enjoy a tranquil hike through the forest in the look for howler monkeys and other wildlife that inhabit the area, while also learning about the rainforest plants.
Altun Ha: The site covers an area of 6 square miles (9.66 km2). It consists of two central plazas surrounded by towering temples. The largest temple is the "temple of the Masonry Altars" which is 54 feet (16 m) high. The site is great for an introduction to the Maya history.

Meals: Breakfast & Dinner
Day 3 - Full Day Tour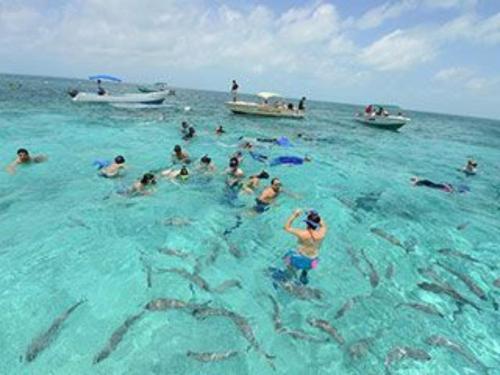 Choose one of the following tours:
Hol Chan and Shark Ray Alley Snorkeling: You will be transported by boat from Black Orchid to the Reef and on your first snorkeling stop at Hol Chan Marine Reserve you will be amazed at all the corals, and the different types of fish and sea creatures you will see. At Shark Ray Alley, a part of the reserve, the main attraction is swimming with the Nurse Sharks and the Southern Sting Rays.These creatures have a great tolerance for divers and seem to enjoy the human interaction. Some may swim in circles around you, like a cat rubbing against your legs. The world's largest diving magazine, 'Skin Diver', has selected this place as one of the seven best "animal dives" in the Caribbean.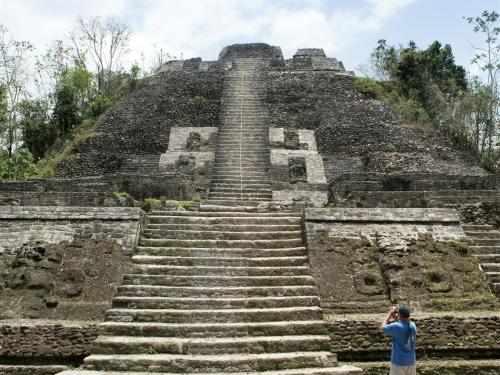 Cave Tubing: On arrival to Caves Branch National Park you'll hike 45 minutes down a jungle trail where your guide will point out the various plants, roots and herbs once used by the ancient Maya for medicinal purpose. Cave Tubing is an exciting adventure you'll never want to end and one you will always remember.Climb into your inner tube, turn on your headlamp and allow the gentle flow of the river to guide you through dazzling and complex crystalline formations of stalagmites and stalactites. Climb into your inner tube, turn on your headlamp and allow the gentle flow of the river to guide you through dazzling and complex crystalline formations of stalagmites and stalactites.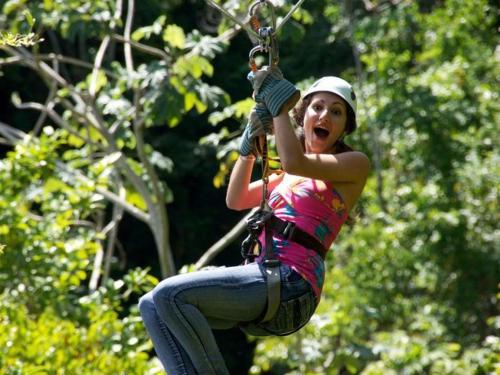 amanai Maya Site: Lamanai, meaning "Submerged Crocodile" in Mayan, is cradled on the shores of the New River Lagoon and is thought to be the largest Mayan ceremonial site in the region. It boasts over 800 structures deep in the lush jungle that were occupied as early as 1500 B.C. The onsite museum has precious artifacts on display portraying over 2000 years of Mayan History.On this tour, you will get to enjoy a scenic boat ride up the New River before arriving Lamanai, providing a great opportunity for wildlife spotting. At the site you will get to marvel at panoramic views of the rainforest and lagoon from atop the High Temple.
Zip-Lining, Cave Tubing and Crystal Cave: A thrilling and exciting adventure, and the experience is totally indescribable! Only the true adventurers at heart are advised to participate in this sport! You'll be individually outfitted with helmets, harnesses and safety lines. Then you go soaring high above the jungle canopy! That is a ride of lifetime that you will never forget!
Then climb into your inner tube, turn on your headlamp and allow the gentle flow of the river to guide you through dazzling and complex crystalline formations of stalagmites and stalactites. Famous Crystal Cave is one of the largest caves in Belize. Trained guides lead visitors underground through a living natural cave to witness the ongoing miracle that created this natural masterpiece of underground scenery. Experience seeing the beautiful stalactites and stalagmites, rim stone dams and Mayan artifacts.
Meals: Breakfast, Lunch, Dinner
Day 4 – Departure
You'll enjoy breakfast with your favorite drink, and then be transferred from Black Orchid Resort to the Belize International Airport in our air conditioned van.
Meals: Breakfast
Rates are per person USD and are based on a double occupancy room
Prices Per Person Starting From
$625 USD
Contact us today to learn more about our Belize all inclusive vacations.